About
A little about our new emerging business district.
Chelsea is a neighborhood located south of Redgate Avenue on the West side of Norfolk.  It's bounded by Redgate Avenue, Claremont Avenue, Warrington Avenue and the Norfolk Southern Rail Yard.  The Elizabeth River Trail cuts right through the neighborhood.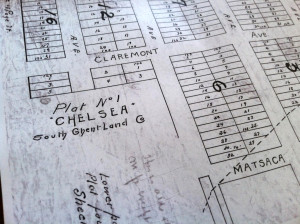 Most folks ask, "Where did the name come from?"  The local businesses did not invent it.  Chelsea "South Ghentland," appears on an old street map kept in the City of Norfolk files.  The City Planning department uses that name to refer to the neighborhood.
Chelsea has been home to many businesses over the years, though mostly industrial or service industries. There were gyms and an antique shop.
The restaurant scene was anchored by The Ghent Inn, a local beer bar, Cruzers, a late night karaoke bar, and Orapax, an authentic Greek restaurant.  In 2007, Tortilla West moved in and renovated the former Ghent Inn to the delight of West Norfolk families.  In 2008, The Muse Writers Center moved to Chelsea, joining The Little Theater of Norfolk in establishing an arts and culture scene in the neighborhood that continues to grow organically each year. In January 2011, The Birch Bar, a specialty beer bar, opened, and since then every few months there's another new business opening its doors including The New Leaf Flower Shop, Smartmouth Brewing Co., Bakehouse at Chelsea, Otzi Tattoo, Torch Restaurant, and The Hive Artists' Studio.  These plus others have created an eclectic, vibrant neighborhood.
The Chelsea Businesses formed the Chelsea Business Association in 2013 to work towards common goals for the neighborhood.  In the last few years, the City appropriated funds to the area allowing for the sidewalks to be improved, new lighting to be added, new bike racks installed and trash/recycling containers to be placed.
Please visit the business listings to see all that Chelsea has to offer.